Upcoming Program
Friday and Saturday May 11 and 12, 2018... A Friday Workshop starts off a special visit from Australian quilt artist, teacher and newly elected president of SAQA,
Lisa Walton."Stamp, Paint , Stitch".
In this technique driven workshop you will create your own original stamps using compressed sponge and then print them onto fabric which will then have additional fabric paint added. Then you can quilt your pieces into cushions or small wall hangings. A great surface design technique experience! Now open for registration. See the Calendar Page. Only two seats left!


The following day Saturday, May 12 at our May General Meeting Lisa's presentation will be "Textile Traveler"
And coming June 30th a Saturday workshop with Sandra Bruce ! "Material Matrix". Her work involves using a gridded photograph and interpreting each 2-inch square into fabric, using piecing to achieve the effect. In the workshop, in addition to the technique, she teaches: what makes a good photo to use, color and value, loose curved-piecing, and how to grid your own photo. Now open for registration! See the Calendar page for details.


Also open for registration our special 2 day workshop August 16-17 with the iconic art quilter Velda Newman.... Students will learn to create texture and form using machine techniques and beyond, introducing the use of alternative mediums such and paint, ink and colored pencil. See the Calendar page for details.
For a complete listing of upcoming workshops and events now updated into early 2019 ,see our Calendar page.
Visitors are welcome at our General Meetings for a $10.00 fee.
Refunds of paid registration fees will be made only if the cancelled space can be filled. We will maintain a waiting list. If we cannot fill the space by our waiting list, you may designate a friend to take your place. Please notify the Program Chair of the name of any substitute. If a replacement for your space is not found, your registration fee will be forfeited.
Click below to view quilts by our members:
February 4, 2018 Quilters Showcase
October 21, 2017 Quilters Showcase
August 5, 2017 Quilters Showcase
May 13, 2017 Quilters Showcase
February 5, 2017 Quilters Showcase
October 22, 2016 Quilters Showcase
August 20, 2016 Quilters Showcase
May 14, 2016 Quilters Showcase
February 6, 2016 Quilters Showcase
October 17, 2015 Quilters Showcase
August 15, 2015 Quilters Showcase
May 2, 2015 Quilters Showcase
February 7, 2015 Quilters Showcase
October 18 , 2014 Quilters Showcase
August 16, 2014 Quilters Showcase
May 2, 2014 Quilters Showcase
February 8, 2014 Quilters Showcase
October 12 , 2013 Quilters Showcase
August 17 , 2013 Quilters Showcase
May 18, 2013 Quilters Showcase
February 9, 2013 Quilters Showcase
October 12, 2012 Quilters Showcase
August 11, 2012 Quilters Showcase
May 12, 2012 Quilters Showcase
February 11, 2012 Quilters Showcase
October 22, 2011 Quilters Showcase
August 13, 2011 Quilters Showcase
May 21, 2011 Quilters Showcase
February 12, 2011 Quilters Showcase
October 9, 2010 Quilters Showcase
Did you get to Road To California 2015 to see the Ontario Convention Center Atrium bedecked with 35 quilts from talented Westside Quilters Members? If not See photos here. ..
Westside Quilters is open to all traditional, contemporary and art quilters of any age, from beginner to expert. Lecture presentations, workshops and field trips are held throughout the year.
Our Mission:
A new kind of quilt guild organized for educational and charitable purposes; to promote cooperation and the exchange of ideas among quilters; to instruct members in methods and techniques of traditional and contemporary creative quilting; to serve mini-groups and their philanthropic endeavors within the community; to inspire personal achievement.
Westside Quilters meets quarterly on Saturday mornings at St. John's Presbyterian Church at 11000 National Blvd Los Angeles CA 90064 (2 blocks East of Sepulveda Blvd.) Ample free parking! Parking and Directions.
Our 2018-19 brochure coming soon!
Check our Calendar page often for a complete schedule of lecturers and workshops through mid 2019.
Click here for ways that Quilters can help others through our philanthropy projects.
For questions or to join our mailing list e-mail to: Westsidequilters@yahoo.com
Click on the links below to access Amazon.com and iGive.com. When you purchase online through these links - books, electronics, almost anything - Westside Quilters will automatically receive a percentage at no cost to you. In addition, when you register with iGive.com, WQ receives a bonus!
Westside Quilters is a Member of
the Southern California Council of Quilt Guilds www.sccqq.org
Westside Quilters is tax-exempt from Federal income tax under section 501(c)(3) of the Internal Revenue Code, and classified as a public charity under section 170 of the Code, according to the determination letter dated May 26, 2011 received from the Internal Revenue Service. The effective date of exemption is June 17, 2010. Donations to Westside Quilters are fully tax-deductible for individuals and other entities such as corporations, partnerships, trusts; Westside Quilters also is qualified to accept tax deductible bequests and gifts or transfers of gifts.
Last Updated 4.26.18
Some of Our Recent Events -
Saturday, April 21st 20 WQ members enjoyed They brought "Slow Sittching Saturday".They brought hand work - bindings, embroidery, Sashiko, knitting, crochet and a picnic lunch. Desserts were shared!
Saturday, March 10 Laura Fraga joined us for her "Journey with Dear Jane" workshop. We pieced and paper pieced several Dear Jane blocks and learned accurate machine piecing, paper piecing and quick cutting techniques. See photos here...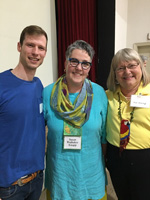 Friday and Saturday we welcomed quilt artist, teacher and host of Quilting Arts TV on PBS Susan Brubaker Knapp for a thread sketching workshop and her presentation at our Saturday meeting "The Artist in You" See photos here...

Saturday, January 13, 2018 we enjoyed the annual Westside Quilters "Sew-In". Members brought their own projects, UFOs and hand work for a day of relaxing sewing, instructional demos and another delicious pot luck lunch.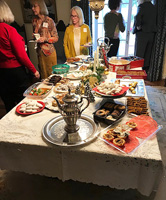 Sunday, December 3, 2017 - The Annual Westside Quilters Holiday Tea - A wonderful afternoon full of tasty treats, good conversation and Holiday Cheer!
See photos here...
Saturday, November 11, The Westside Quilters Annual Philanthropy Workshop "Giving For Thanksgiving". Our members came together to work on some of our current philanthropy projects. Let's not forget the potluck lunch! Updated with deliveries to Upward Bound and A Child's Dream.
See photos here...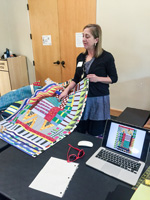 October 20-21 We loved our visit from Alaskan contemporary piecer/art quilter Maria Shell and her workshop "Making Prints out of Solids" Through years of exploring pattern and repetition, Maria has created an assortment of "prints" made out of solid fabrics.She shared her unusual quilter's journey with a slide presentation and trunk show at our Saturday meeting. See photos here...
Local Designer and quilter Tina Curran joined us for a Saturday workshop quilt project her new "At The Beach". Just the way to keep summer alive a little longer! Shown here is her christmas version.
See photos here...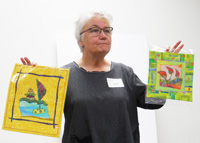 We had a real treat with the wonderfully whimsical Laura Wasilowski giving her presentation "I Quilt, Therefore, I Am" her hilarious, self deprecating, surprisingly musical version of her life illustrated by her charming fused quilts. We loved her! We also enjoyed and shopped…and shopped…and shopped at our annual fabric sale. Her Friday Workshop "Accidental Artist" was wildly popular!

Rami Kim joined us for our Friday, May 12th workshop - "The Fifth Dimension" where she taught us 10 fabric folding and manipulating techniques including hexagon and biscuit chopkey, mirror-imaged continuously folded prairie points, harlequin tucks, North American hand smocking and lined prairie points. At our Saturday meeting she gave us a gorgeous fashion show of her prize winning wearables.See photos here..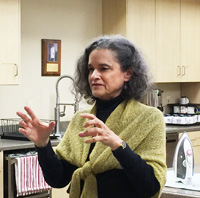 On February 3, 2017 San Francisco quilt artist Marcia Stein taught her workshop "Photo to Fabric" and the following day gave us her power point presentation at our Saturday meeting.
See photos here...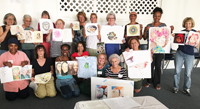 August 18-19 - We loved ourSold Out two day seminar with Lura Schwartz Smith
"Designing Art Quilts".
We worked with our own photos using textile inks, markers, pencils, pastels and other materialsLura also joined us for a presentation at our August 20th Saturday Quarterly Meeting "New Journeys of an Art Quilter" along with the founders of "Dollies Making A Difference"
See photos here...