Upcoming Programs:


Friday, May 1 Charlotte Angotti "Let Me Surprise You" Mystery Quilt Finally a class that you know you have brought the right things for! In this fun-filled class, a kit of CUT fabrics is furnished. This is a wonderful group workshop for those that just want to sew and not have any cutting or thinking to do.
Saturday, May 2 Charlotte Angotti will also join us at our Quarterly General Meeting for a lecture "Your Stash! My Stash! *design, color, collections and quilts*"


Saturday, June 20
Jane Tenorio-Coscarelli .
"Cut-away Applique".
Come join the fun in this cut-away applique' class. Don't run away when we say reverse applique' - It's fun! With whole cloth or Hawaiian applique' techniques, learn how quick and easy it can be with the needle turn method. Eliminate all those extra steps in applique' - with a turn of the needle your design comes to life. Choose from two of Jane's designs pictured on the supply lists. Once you master the cutaway method you can move on to one of Jane's other class that will be available for sale in class.

And coming on August 14th...a workshop with Irena Bluhm "Quilts of a Different Color". Learn how easy it is to apply color using regular colored pencils to a small, quilted piece. Don't be afraid of using bold, bright colors to create great contrast and drama to your quilt.
---
A complete calendar - now updated through December 2015 - more info and workshop sign-ups on our Calendar Page
Visitors are welcome at our General Meetings for a $10.00 fee.
Refunds of paid registration fees will be made only if the cancelled space can be filled. We will maintain a waiting list. If we cannot fill the space by our waiting list, you may designate a friend to take your place. Please notify the Program Chair of the name of any substitute. If a replacement for your space is not found, your registration fee will be forfeited.
Click to view quilts by our members
February 7, 2015 Quilters Showcase
October 18 , 2014 Quilters Showcase
August 16, 2014 Quilters Showcase
May 2, 2014 Quilters Showcase
February 8, 2014 Quilters Showcase
October 12 , 2013 Quilters Showcase
August 17 , 2013 Quilters Showcase
May 18, 2013 Quilters Showcase
February 9, 2013 Quilters Showcase
October 12, 2012 Quilters Showcase
August 11, 2012 Quilters Showcase
May 12, 2012 Quilters Showcase
February 11, 2012 Quilters Showcase
October 22, 2011 Quilters Showcase
August 13, 2011 Quilters Showcase
May 21, 2011 Quilters Showcase
February 12, 2011 Quilters Showcase
October 9, 2010 Quilters Showcase
Westside Quilters is open to all traditional, contemporary and art quilters of any age, from beginner to expert. Lecture presentations, workshops and field trips are held throughout the year.
Our Mission:
A new kind of quilt guild organized for educational and charitable purposes; to promote cooperation and the exhange of ideas among quilters; to instruct members in methods and techniques of traditional and contemporary creative quilting; to serve mini-groups and their philanthropic endeavors within the community; to inspire personal achievement.
Westside Quilters meets quarterly on Saturday mornings at St. John's Presbyterian Church at 11000 National Blvd Los Angeles CA 90064 (2 blocks East of Sepulveda Blvd.) Ample free parking!
Parking and Directions.
Click here for ways that Quilters can help others through our philanthropy projects.
Check our Calendar page often for a complete schedule of lecturers and workshops through 2015.
For questions or to join our mailing list e-mail to: Westsidequilters@yahoo.com
Click on the links below to access Amazon.com and iGive.com. When you purchase online through these links - books, electronics, almost anything - Westside Quilters will automatically receive a percentage at no cost to you. In addition, when you register with iGive.com, WQ receives a bonus!
Westside Quilters is a Member of
the Southern California Council of Quilt Guilds www.sccqq.org
Westside Quilters is tax-exempt from Federal income tax under section 501(c)(3) of the Internal Revenue Code, and classified as a public charity under section 170 of the Code, according to the determination letter dated May 26, 2011 received from the Internal Revenue Service. The effective date of exemption is June 17, 2010. Donations to Westside Quilters are fully tax-deductible for individuals and other entities such as corporations, partnerships, trusts; Westside Quilters also is qualified to accept tax deductible bequests and gifts or transfers of gifts.
Last Updated 4/7/15
Our most recent events -
On Saturday April 18th WQ members and guests enjoyed a curator led visit to the Craft and Folk Art Museum to view "Manmade: Contemporary Male Quilters" feauring the works of quilt artists Joe Cunningham, Luke Haynes, Jimmy McBride, Aaron McIntosh, Joel Otterson, Dan Olfe, Shawn Quinlan, and Ben Venom.

Saturday, April 11 30 enthusuastic hopeful "Zentanglers" (including 3 teenagers enjoyed a "Zentangles" workshop with Sharla Hicks of Soft Expressions in Anaheim.See photos here. ..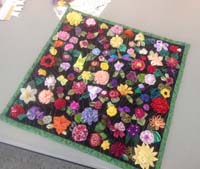 Saturday, March 14 workshop with Christen Brown - "Ribbonwork Flower Garden". We learned to make a flower garden with ribbon.
See photos here. ..
Friday, February 6:
"Labyrinth" workshop with Debbie Maddy. She also spoke at our Saturday General Meeting on "No Diamonds, No 'Y' Seams / Old Quilts, New Methods"
See photos here. ..
Did you get to Road To California this year to see the Ontario Convention Center Atrium bedecked with 35 quilts from talented Westside Quilters Members? If not See photos here. ..

On Saturday afternoon, December 6th Westside Quilters members enjoyed a delicious afternoon Holiday Tea and raised $500.00 for the Westside Food Bank. See photos ..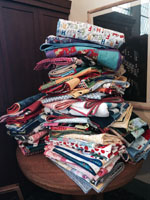 Saturday, November 8
WQ's annual
"Giving for Thanksgiving" Philanthropy workshop. 77 children's quilts - quilted, bound and labeled - ready to be sent to local children's charities.
See photos of the workshop and the quilt deliveries ...
A fabulous weekend with a lecture at our May 3rd General Meeting and the sold out 2-day workshop - :"Abstracting From Nature" with Jane Sassaman
See photos ..


Quilting star, co-founder of "The Quilt Show" and star of "Simply Quilts" (shown here with Nancy King the raffle grand prize winner) visited Westside Quilters on Sunday, April 14, 2013 for
an afternoon of great talk, beautiful quilts and surprises.. See photos ...